Collaborative meeting management software for executive and steering Committees, Boards and General Meetings
Make life easier for the members of your
Executive committees,
Boards and General Meetings
topboard takes care of all the complexity of managing your meetings and
lets you focus on what really matters:
efficient and smooth decision-making.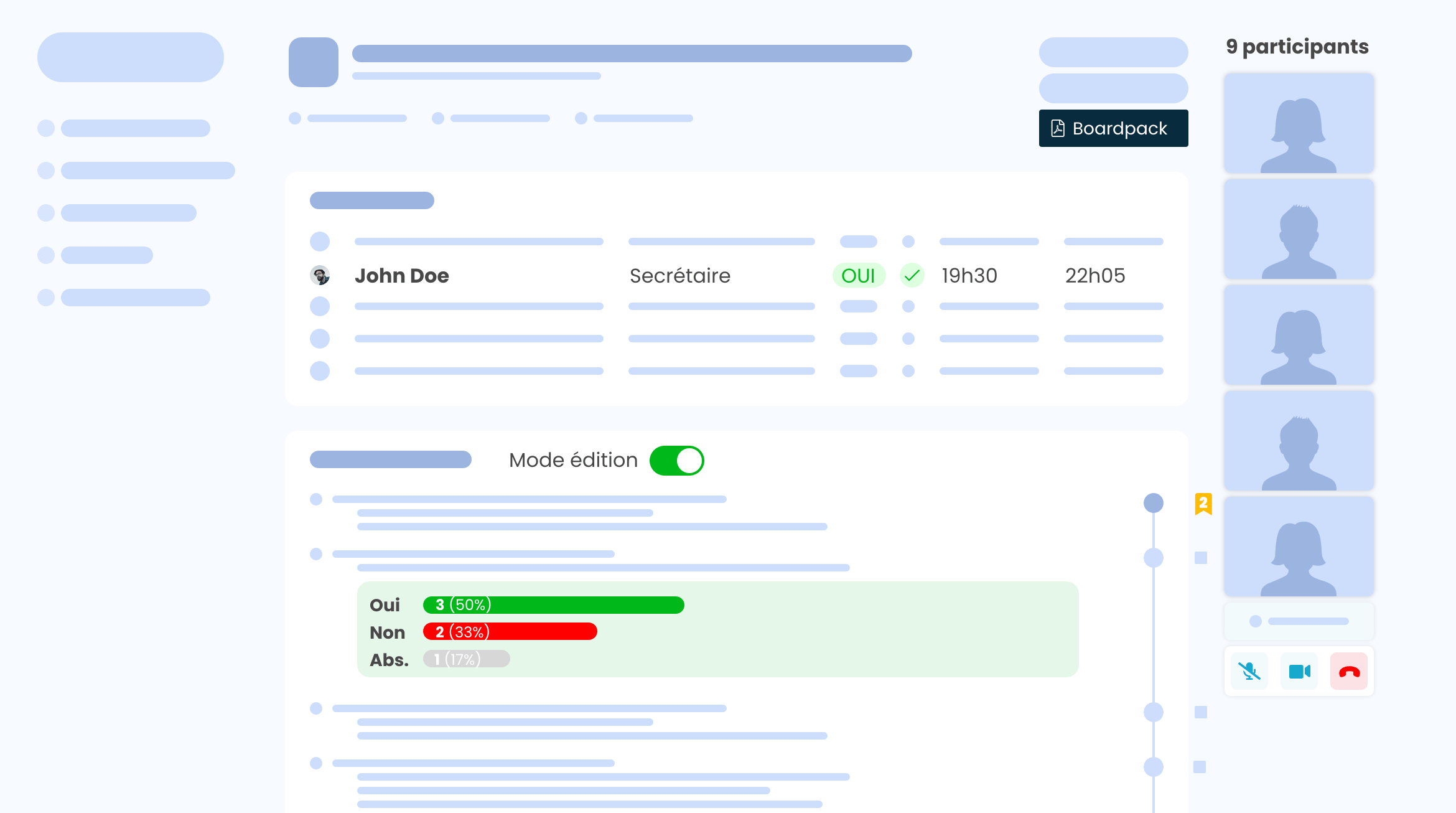 Members management

Agenda Editor

Download all documents

Personal notes

Votes and polls

Videoconference

All the essential features
in one tool
Agenda Editor

Session management with agenda generator.

Members & guests management

Simply manage access to allow members to confirm their attendance at meetings.

Votes & Polls

Organize the online votes and validate the decisions taken according to the minutes.

Document & Archive Management

Store and share files and documents from one secure location.

Creation of minutes & report

During the meeting the minutes will be updated in real time to all those who are following the meeting.

Connected with videoconference

The videoconference integrated into the meeting allows you to easily follow the progress of the agenda.

Boardpack

Download in one click all the necessary documents for the meeting.

Personal notes

Add strictly personal notes on each agenda item.

Shareholders and Associates

Organize votes according to the capital stock or shares of your shareholders or partners.

Proxy Management

Delegate voting rights to proxies, with or without voting instructions.
Organize your meetings quickly, efficiently and securely
Less time wasted on organizing
Before the meeting
The person in charge of the meeting
Creation of the agenda in a few minutes
Send invitations in one click
Share all documents in a secure way
The participants
Confirmation of participation
Delegation of votes to a proxy
Taking personal notes
Facilitated preparatory work
1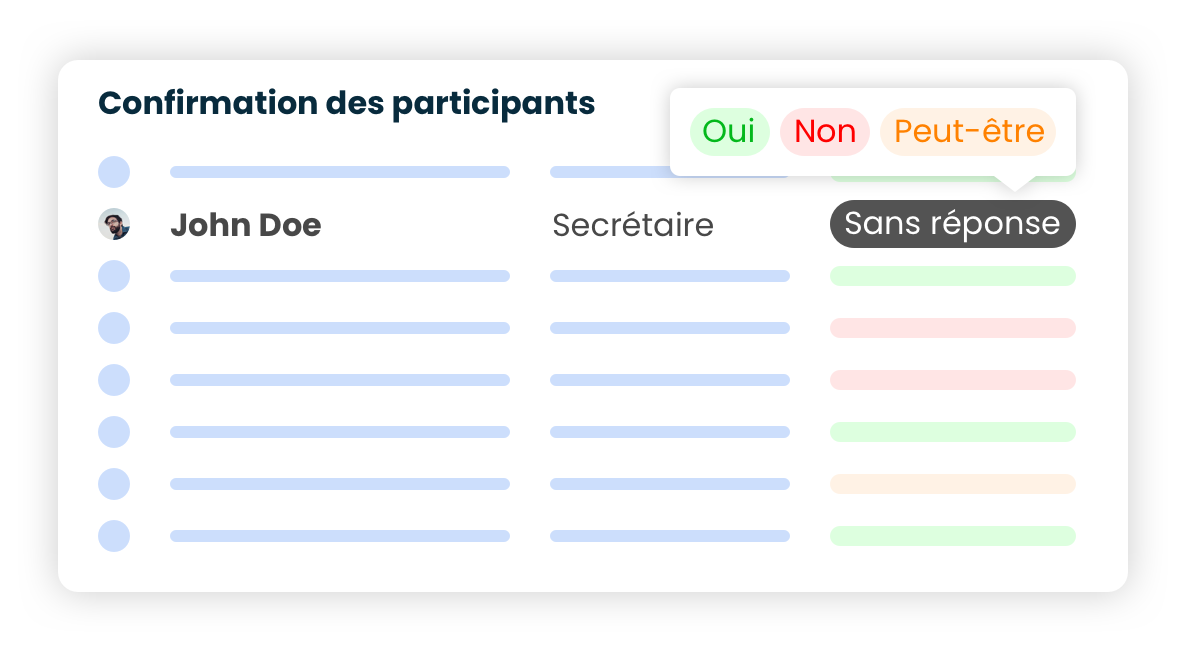 Less redundant work
During the meeting
The person in charge of the meeting
Complete the attendance list
Follow-up of the progress
Management of votes and polls
Update the agenda
The participants
Real time voting
Follow-up of the agenda
2
Fewer scattered documents
After the meeting
The person in charge of the meeting
Sending the minutes to the participants for approval
Secure archiving of documents
Research of past decisions
Follow-up of the decisions taken
The participants
Approval of the minutes in one click
Consultation of the archives 24/7
Summary of the time spent in meeting
Follow-up and reminders of assigned tasks
3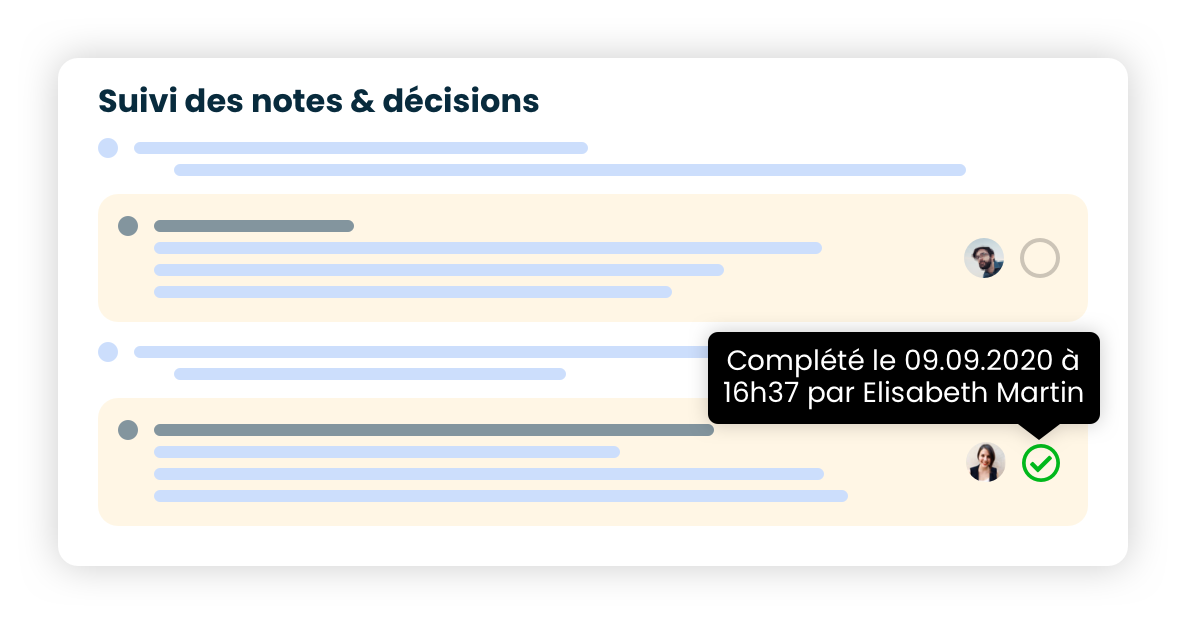 Developed and hosted in Switzerland



topboard is a collaborative software solution designed and developed in Switzerland. The hosting is also done in Switzerland on Hidora's servers.
The infrastructure is located in two datacenters in Gland (Vaud) and Geneva which are operated by the company SafeHost SA, certified ISO27001, ISO9001 and Green-IT.
Your data is only stored in Switzerland and is in compliance with nFADP and GDPR. It remains entirely confidential and only accessible according to the access levels you grant to your members.
topboard is perfect for these areas
Management of Committees and Councils
Associations, Foundations or Cooperatives
Executive committees and Boards of Directors
Companies and Industries in all sectors
General meetings of co-owners
Real estate agencies and Co-ownerships
But it is also used by other organizations,
Try it for free to make your own idea
Antoine Fatio's experience
Director of Fondetec
topboard has revolutionized the way our foundation organizes its meetings. For the past 6 months, we have saved about 10 hours on the organization and follow-up of each meeting, which may not seem like much, but for us it represents a saving of about $10,000 per year. Beyond the monetary impact, it allows our small team to spend more time with our customers to fulfill missions with higher added value. Today we would not do without it.
Jeanne's experience
Administrative Manager at FFPC
With topboard everything is simple. The tool was configured in a few minutes and the handling is natural. Users find their way around easily and we don't have to spend hours explaining it to them. So we really save time! We really like the fact that everything is in one place. The support is excellent and responsive. In short, we are delighted!
Bastien's experience
Project Manager at Nomads Foundation
With the adoption of topboard for the organization and the follow-up of our meetings, our foundation saved precious hours that could be used for the operationalization of our projects while ensuring a decisional follow-up and a traceability of our exchanges fluid and accessible.
Nina's experience
CEO of MNK Group SA, Geneva
The ease of use of topboard allowed us to quickly set up a super efficient meeting management tool. This tool really saves us a lot of time in organizing and holding our meetings.
Joëlle's experience
Director of ForPro Foundation
topboard is an easy-to-use meeting management tool that is above all, especially facilitating!
For Board members, it ensures that all decisions, minutes and useful documents are available at all times on a single platform.
For management, preparation of content is facilitated and formalization is improved.
For teams, it is the sharing of topics and note taking that is highly appreciated.
In the end, several strong points ... time saving, empowerment of participants and agility of groups.
Frequently asked questions
What kind of service does topboard offer?

topboard allows the management of executive committees, Boards and General Meetings and/or any other meetings in a digitalized way by proposing in particular a generator of agenda with agenda, the planning of meetings, the organization of online votes, the taking of online decisions, the automatic establishment of minutes, the storage and the sharing of files and documents from a single protected place.

Who can benefit from topboard services?

topboard is designed for both individuals and companies (associations, co-ownership, foundations, corporations, limited companies, etc.) that need to organize and manage executive committees, Boards and General Meetings and/or any other meetings and/or any other type of meeting.

Why to choose topboard?

Through multiple functionalities, topboard facilitates and digitizes the holding of your meetings. You will no longer need to use paper. topboard offers you the possibility to choose among three types of subscriptions for very attractive prices. By using the topboard software, you will save time and optimize the management of your meetings.

Is it possible to organize a Board of directors or a General Meeting on the website?

Yes, you can also create your agenda online, manage your members and guests, conduct online votes and polls, make personal notes, upload documents, hold your meeting via video conference, etc.

Is it possible to organize a vote in real time through the topboard software?

Yes, when organizing a meeting, you can at any time propose a vote in relation to certain decisions and/or a poll. The results of the votes and/or polls are obtained in real time.

Is it possible to restrict access to external persons?

Yes, the access and guest management allows you to clearly and simply define the access rights of your members and guests.

In concrete terms you can :

Use groups to limit the visible meetings of the groups to people belonging to the groups.
Limit the number of visible meetings for each of the accesses over a period of time.
Invite external people to the meetings, they will receive the email with the minutes and/or the agenda, they can decide if they are present or not, and, on the day of the meeting, they can simply vote.
Try topboard
for free

!

We are convinced that your organization will adopt topboard instantly, which is why we offer you to organize your first meeting with the software, without obligation.

Book your demo
Create your free registry
Discover our free online dematerialized shareholder register without the need to create an account.
Get instant access to all relevant information and easily manage your shareholders/share capital for the corporation (LTD). Also works with the limited liability company (LLC) by creating your free online register of partners.
Register of shareholders
Ideal for
Public limited company (PLC)
Try
Register of associates
Ideal for
Limited liability company (LLC)
Try