Your board or committe members will thank you!
The management software for boards of foundation or cooperative,
and committee of association
topboard has been specially developed to meet the needs of clients in the charity sector. Our goal is to offer you an all-in-one interface that groups and simplifies powerfull tools. It becomes very easy and fast for an association, foundation or cooperative to manage its board or committee.
Why do NGOs use topboard?
Provide a powerful tool for board and committee members to save time
Diminish administrative burden for council and committee organizers
Secure the transfer and archiving of documents and make them available 24/7
Essential features
in a single tool
Agenda Editor

Management of the session by an agenda generator.

Member & guest management

Simply manage access to allow members to confirm their attendance at meetings.

Votes & Polls

Organize the online votes and validate the decisions taken according to the minutes.

Records management & archives

Store and share files and documents from one secure location.

Creation of minutes & report

During the meeting minutes will be updated in real time to all those following the session.

Connected with visioconference

The videoconference integrated into the session makes it easy to follow the progress of the agenda.

Boardpack

Download in one click all the usefull documents for the meeting.

Personal notes

Add strictly personal notes on each agenda item.

Shareholders and Company members

Organize votes according to the share capital or capital contributions of your shareholders or company members.

Proxy management

Delegate voting rights to proxies, with or without voting instructions.
Organize your meetings quickly, efficiently and securely
Less time wasted in organizing
Before the meeting
Session leader
Creation of the agenda in a few minutes
Send invitations in one click
Secure sharing of all documents
Participants
Confirmation of participation
Personal note takingPersonal note taking
Easier preparatory work
1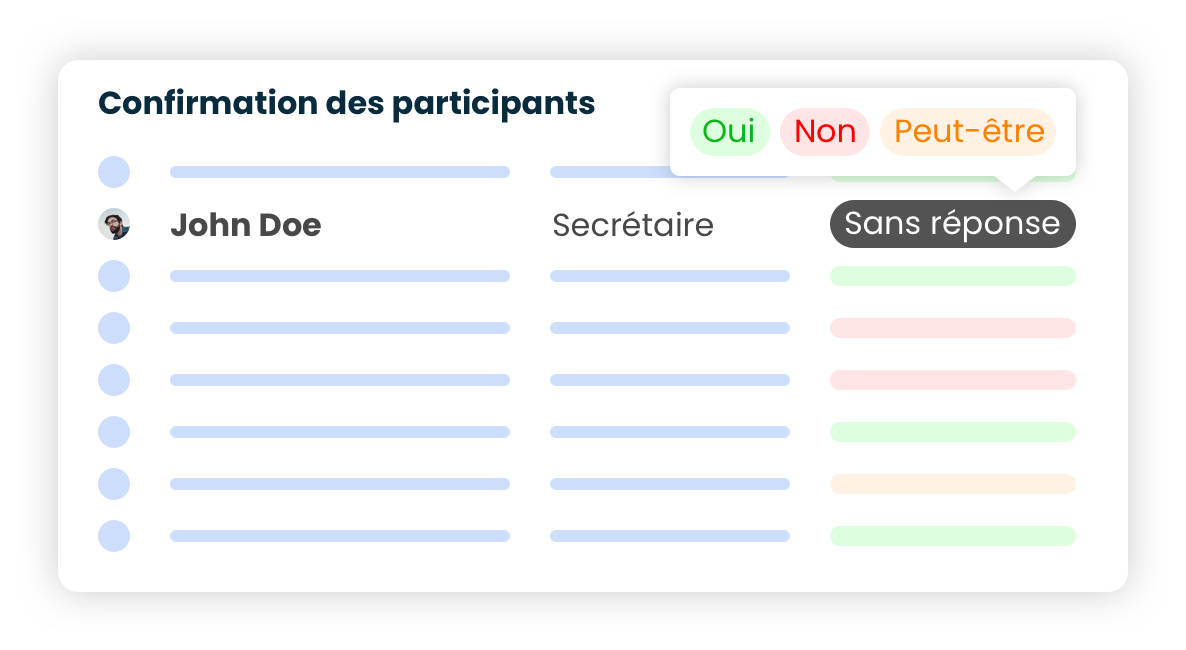 Less redundant work
During the session
Session leader
Monitoring of progress
Votes and polls management
Update the agenda
Participants
Votes in real time
Follow-up of the agenda
2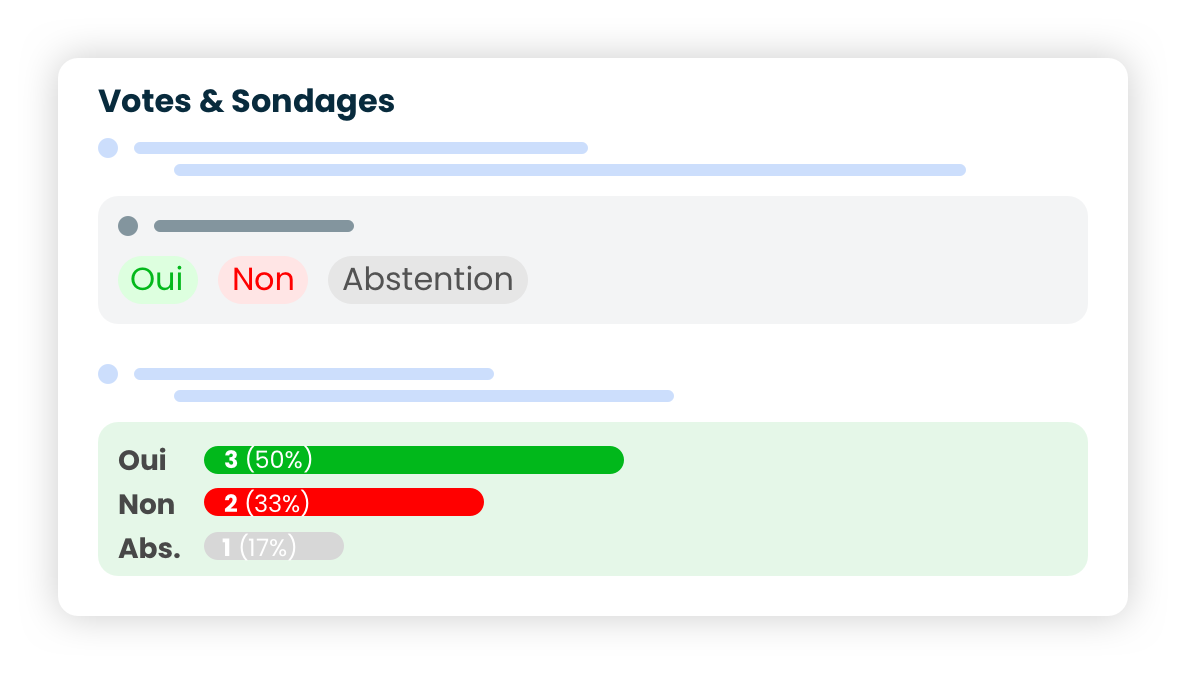 Fewer scattered documents
After the session
Session leader
Minutes sent to participants for approval
Secure storage of documents
Search for past decisions
Follow-up of decisions taken
Participants
Approval of the minutes in one click
24/7 archive consultation
Summary of time spent in meetings
Follow-up and reminders of assigned tasks
3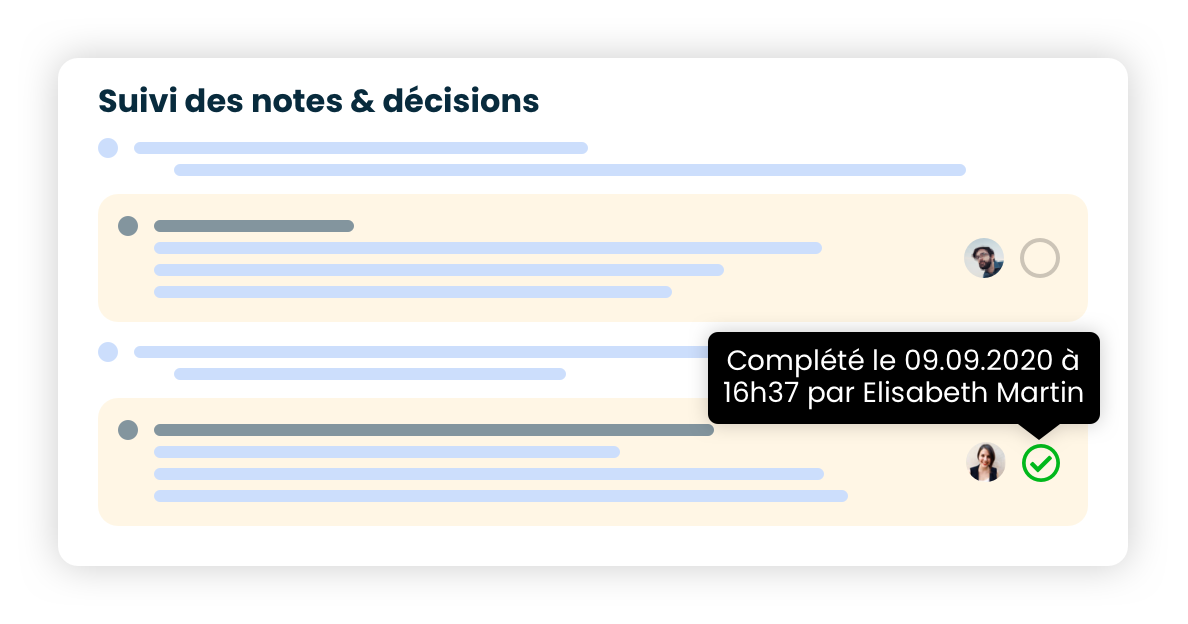 Developed and hosted in Switzerland



Topboard is a software solution designed and developed in Switzerland. The hosting is also done in Switzerland on Hidora's servers.
The infrastructure is located in two datacenters in Gland (Wadt) and Geneva, both in Switzerland, which are operated by the company SafeHost SA, certified ISO27001, ISO9001 and Green-IT.
Your data is only kept in Switzerland and is in compliance with the RGPD. It remains completely confidential and only accessible according to the access levels you grant to your members.
Try topboard
for free

!

We are convinced that your organization will adopt topboard instantly, which is why we offer you to organize your first meeting with the software, without obligation.

Book a demo